Post by buggs on Apr 13, 2022 14:00:33 GMT
Hey everyone,
So, when I got my first MX5 (a black mk1 around 10 years ago) I really really wanted more power and had a quick look into forced induction. Due to the other half getting herself up the duff

, the car had to go unfortunately. Fast forward around 8 years and I found myself in possession of a MK2 Sport and after 2 years of deliberating.......my journey has begun.
I looked at a few different options, turbo obviously, supercharging and more recently ITBs (Individual Throttle Bodies for a motorcycle). The ITBs started to take my favour around 6 months ago due to being quite unique, looking awesome and sounding even better. After having a good look into them, I decided on buying a second hand intake manifold to adapt for a set of ITBs and then purchased some Yamaha TT600 throttle bodies. After buying these, I started to read a lot more information online and started talking to people with experience and I found these are going to be a bit of a chore to not only get to a point where it would be great to driver, but also maintaining them was going to be a mission!
I started to have second thoughts......Turbo I quickly dismissed to be honest, as it's fairly common and a little beyond my capability to install as I wanted to keep this build something I could do myself. Supercharging I have basically always wanted to do but thought that was going to be too much also. However, around a month ago I stumbled upon a youtube channel from a chap called James up in Yorkshire. He purchased a MK2.5 and decided to supercharge it by himself using pretty much all second hand parts. He spent a year gathering parts and installing bits and bobs as he went along. Over they course of a couple of nights I watched all 25 odd videos, he went into so much detail on what he was doing and why he was doing it, that it really gave me the confidence that I could actually do all this myself....bar tuning it.
Decision made, I started looking for parts. I instantly began to look for a Mini Cooper S Supercharger as this seems to be the most common used in an MX5 build and kits for them are widely available. After spending a couple of weeks looking it quickly dawned on me that there was no need for one yet as I clearly cannot bolt it to the car with nothing else to go with it

Plan rejigged.....I was on the hunt for a standalone ECU. Looking at new ECUs, I wasn't prepared to drop £800 on what I was hoping to be a budget build. A new ECU would be preferable obviously as it's a rather important part of the car!!! But one came up for a sale from a guy recommended by a friend for nearly half the price, so I took that.
ME221 Gen2 ECU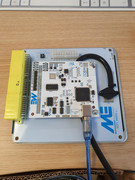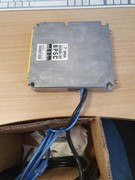 To install the ECU seems rather simple, remove the old one, plug the new one in and run a vacuum line into the intake manifold.....job done! (Obviously would need tuning also). Speaking to a friend who is rather knowledgable on the supercharges, he recommended I install an AFR (Air Fuel Ratio) gauge and wideband sensor at the same time to make life easier. He had a spare one going so he sent me that at the weekend along with a fitting kit for an M45 Supercharger. The fitting kit needs bending and welding but for £100 instead of a £600 job where it's all done for me, I think that's a bit of a bargain.
AFR Gauge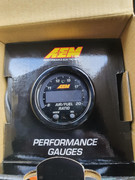 The scene is set, use the bank holiday to install the ECU and the AFR gauge and after chatting to a remote tuner named Alex (comes highly recommended), get it all tuned up to run smoothly until I can source the rest of the parts. However........some uprated fuel injectors came up for sale on Facebook for a good price so thought I would snap those up quickly. If I struggle with time then the fuel injectors don't need to be done at the same time, I can install them later on and just change the details on the ECU using the laptop.
RX8 Yellow Fuel Injectors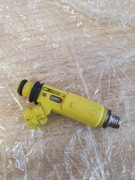 Right......Lets get this show on the road!!!!
First thing I decided to do was to remove all the aspects of the air conditioning from the car. Few reasons for this, 1: it's never been used and does not work!! 2: by removing the condenser in front of the radiator it will give me a lot more space to install an intercooler into. 3: the grommet I want to use to feed all the vacuum tubes through the firewall was taken up by the air conditioning pipes. 4: having the air con compressor running is just another thing to go wrong as the supercharger belt will have to go around that too and want to limit the strain on the belt. So, all the air con pieces were removed fairly easily including the gadget doo dah from behind the glove box that was restricting getting to the grommet I wanted. All that stuff weighs a tonne!!
Next job seemed simple, but was a little daunting. The O2 sensor was situated on the front of the cam cover, but due to the length of the new cable from the AFR gauge and the fact it would generally be in the way of the supercharger if I left it where it was, it needed to be relocated to the rear. Easy, I thought, and it was really. But slicing into all the protective covering for the wiring loom, I realised just how many cables there were inside. Oh, and the wires I needed to move were wrapped around all the feckers! Still, wasn't too much of a job, and was completed fairly quickly and simply.
O2 sensor relocation
Before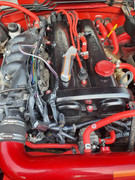 After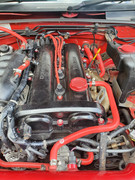 Next job I'm going to tackle is the install of the ECU, AFR gauge and hopefully the injectors this weekend. I'll keep you all updated of how I get on, it'll be a long process as I want to do it in spits and spurts due to time and money restraints, but will get there one day.